Limon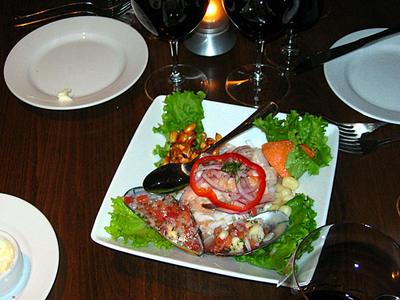 I'm behind on my posting again... It's been 2 weeks since we had an early birthday celebration dinner for my good friend Brian at Limon. It was the day of the Clarion Alley Block Party, so Nora and I were already in the Valencia St. corridor, dropping by the alley early to look at the awesome murals and take pictures, and scouring the plethora of bookstores in the area for one -- just one -- copy of Jon Stewart's book as a present for B. No luck. The bookstores that did carry A Citizen's Guide to Democracy Inaction were all sold out. I guess that's San Francisco for you... But I digress...

Limon has shiny new digs on the very popular, very busy strip of Valencia St. between 16th & 17th, having moved out of their teeny tiny hole-in-the wall on 17th some months ago, thanks to early rave reviews. Their new place is easily 3 times as large, with room even for a teeny slip of a mezzanine, and a second, much smaller level which looks out on the main floor of the restaurant. I love the earthy colours inside -- olive greens and rich terra cotta tones make for a sleekly modern, but invitingly warm place. We were seated on the 2nd level, where I took some surprisingly good shots of the kitchen below.
Everything was simply delicious. There were 4 of us, not overly hungry, and we ordered 2 appetizers to share: their signature Ceviche Limon (the first picture above): "Fresh Halibut with mixed seafood marinated in lime juice, served with yams, Peruvian corn and mussels in a salsa criolla" and the Empanada Don Walter: "Pastry filled with sauteed beef, onion, olives, raisins and eggs served with rocoto cream sauce."
The Peruvian corn in the ceviche tastes like less crispy, giant corn nuts -- they have a slightly chewy rather than crunchy texture, but they added a nice enahncement to the dish. Everything in the ceviche (fish, shrimp, scallops, mussels) was lovely-fresh. The empanadas -- rich and to die for.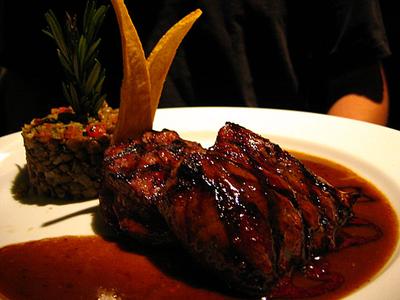 Brian chose the Cordero ala Parilla, "Grilled filet of free-range Lamb, served with lentil tacu-tacu (rice and lentil cake), lamb jus and crisp plantains." It was enormous, and I especially liked the bunny ears of plantains emerging from the tacu-tacu.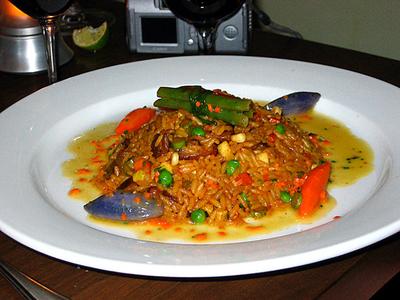 Nora opted for something light -- the Arroz Primavera: "Saffron rice with zucchini, mushrooms, yellow squash, bell pepper and English peas." The purple bits in the picture are soft red onion, I believe.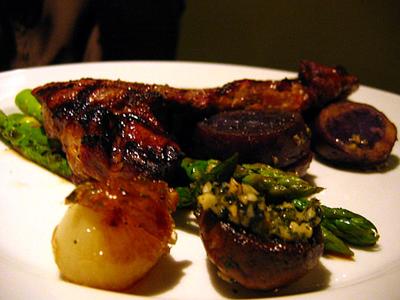 Joel ordered the Churrasco ala Parilla, a hefty grilled "12 oz. Ribeye steak served with roasted Peruvian purple potatoes and grilled aspargus with chimichurri and mustard sauce."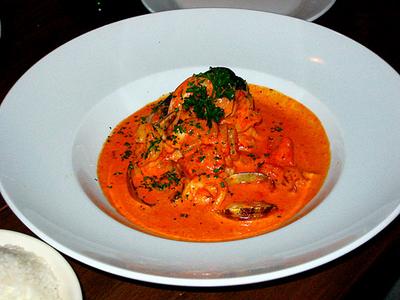 And I wanted more seafood, choosing their Picante de Mariscos: Sauteed seafood and diced potatoes in a Peruvian adresso cream sauce, served with and a side of rice -- the latter helpful in enabling me to gleefully consume all that lovely rich sauce.
Our server was so charming, so agreeable ... we had brought a bottle of wine (on Alder's cue) and cake; both of whch he obligingly served.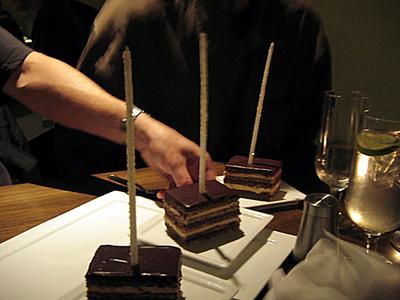 He took the birthday cake Nora brought from Tartine discreetly to the kitchen and served it up on individual little plates, topped with long sparkly candles... Limon is bound to be another favourite; I can't wait to go back...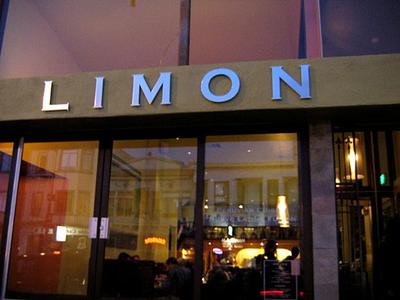 411
524 Valencia Street (btw. 16th & 17th)
San Francisco, California
415.252.0918 tel
415.252.0000 fax
http://limon-sf.com
Reservations recommended
Posted by claudine at November 8, 2004 09:17 PM