Foreign Cinema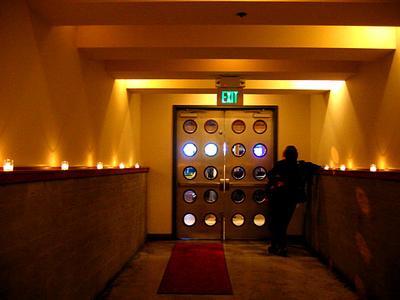 My heart is still heavy from the horrible election results yesterday, so I'm not sure whether I'll be able to post very much about this restaurant. I do have some pictures; some good, some not so great... but on the whole it was my third visit there and I had a spectacular time. Our server was absolutely wonderful, the food absolutely fabulous. We sat in a beautiful gallery space with high white ceilings, and large pieces of interesting art on the wall. I recommend Foreign Cinema unreservedly.

Foreign Cinema is connected to a bar called Laszlo -- the first small picture above, left, is a shot from their balcony space upstairs. We waited in Laszlo for our 945pm reservations. The restaurant's theme, of course, is film, and they project a weekly selection of imported pieces on a large wall in their outside patio. Their business cards feature the very debonaire Marcelo Mastroianni. With 2 indoor spaces -- the main dining room featuring an open kitchen on one side and a bar on the other and their fairly new Gallery space that flanks the patio (no one was sitting outside because of the weather) -- one gets a sense of a large secret world behind the nondescript doors on Mission street.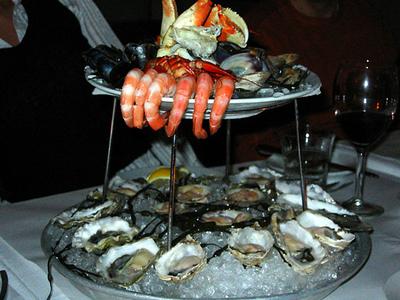 We ordered, to start, a medium order of Fruits de mer: assorted raw and cooked shellfish (mussels, oysters, shrimp, clams, and one teeny crawfish, which I snagged) and fresh crab; there were 6 of us and the offering was perfect. Everything ultra fresh and enhanced by the trio of sauces: champagne mignonnette, aioli, and cocktail.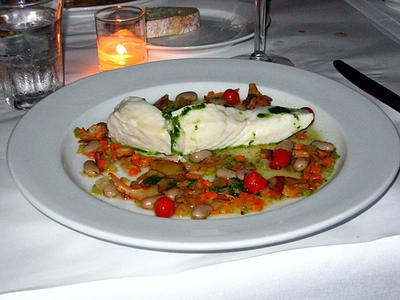 Main courses: all wonderful -- I chose the steamed Northern halibut, golden chantrelle sauce, "mini charm" charry toms, basil and what seemed to be large borlotti beans. Clockwise, Brian picked the Eastern skate, warm caramelised butter and clam essence vinaigrette, parsley, capers and crisped potatoes. Nora chose the roasted Madras curry-scented chicken, Tuscan farro (chewy, smoky, yummy, flavourful), butternut squash, bacon & kale. Unfortunately, the latter two pictures didn't come out so well. The only other dish on the table I failed to capture was of the grilled Moroccan-spiced duck breast, soft polenta, organic romano beans, figs & cracklings.
Dessert: chocolate gateau with champagne sabayon, and ginger cake and ice cream with citrus sauce. Dinner was late, and we closed the restaurant out.
Our waiter, in addition to having a great sense of humor, was exceptionlly gracious, charming and down to earth. He made our late supper one of the best dining-out experiences I've had in a while...
411
2534 Mission St. (at 21st), San Francisco, CA 94110
(415) 648-7600
Dinner: Monday 6:00pm - 9:00pm;
Tuesday - Thursday: 6:00pm - 10:30pm;
Friday - Saturday: 6:00 pm - 11:00 pm,
Sunday: 11am - 9pm; Sunday Brunch begins at 11:00am
Saturday Lunch: 11:30am - 3:30pm
http://www.foreigncinema.com
Make reservations via Open Table here
Posted by claudine at November 4, 2004 08:45 AM