IMBB VII: Dumplings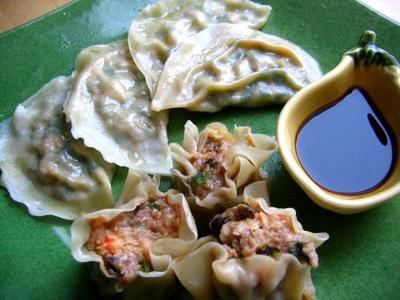 This is the 2nd time in a row that I find myself out of town for IMBB, and this week the theme is Dumplings, hosted by Redbeard of Food Porn Watch... I really enjoy these challenges, as I find that I can push myself to create something I've never attempted before -- such as Bouillabaisse for instance, for the 5th installation of Is My Blog Burning?, held by Wena of Mum-Mum...
So I still wanted a chance to participate, and made my choice early. I was going to attempt Dim-Sum. Translated as "a little bit of heart," or "touching the heart," or even "from the heart," it's a series of small dishes ("Chinese tapas") containing 3 or 4 dumplings or buns, that are mostly steamed or fried. But Dim-sum dishes are also comprised of spare-ribs and chicken feet, pieces of crisped taro cake or bowls of rice porridge. We tradionally take Dim-Sum as brunch -- restaurants tend to serve it anywhere from 11am to 2-3pm. One of my earliest memories of enjoying Dim-Sum was when I, 7 at the time, spent a holiday in Hong Kong with my parents. We ate at one of the floating restaurants in Aberdeen Harbour, possibly at the Jumbo Tai Pak Restaurant -- the biggest and grandest of all. I was definitely very excited at the prospect of dining on a boat, expecting at any minute that waves might send tables and patrons skittering all over the restaurant. No such luck. The boat was huge and the harbour mild; nonetheless the Dim-Sum was extremely tasty, and I enjoyed myself thoroughly.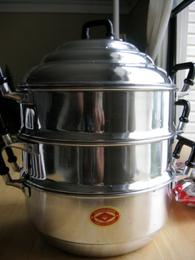 I didn't purchase the traditional bamboo steamers for the occasion -- those small little vessels in which Dim-Sum is traditionally served, but I did get to Kamei on Clement to purchase a nice neat steaming pot, with 2 levels of steamer trays...
I made Siu-Mai -- the quintessential Dim-Sum dumpling of ground pork, mushroom and shrimp; and a less-traditional Scallop, Shrimp and Chive dumpling.
Siu-Mai recipe:
4 dried chinese mushrooms, soaked in hot water for 15 minutes
3/4 lb. ground, fatty pork
1/2 lb. shrimp, coarsely chopped
1/2 cup chopped green onion
1 tablespoon minced ginger (I used less - perhaps a tsp.)
1 tablespoon oyster sauce
1 tablespoon soy sauce
1 tablespoon Chinese rice wine or dry sherry
1 tablespoon cornstarch
2 teaspoons sesame oil
1/8 teaspoon white pepper
1 package of about 30-40 round dumpling wrappers
Cooking oil
Chop up the mushrooms and mix all the ingredients together in a large bowl. Cover with plastic wrap and let the mixture marinate in the refrigerator for 2 hours. Towards the end of your 2 hours, fill your steamer with water and set it over heat to boil.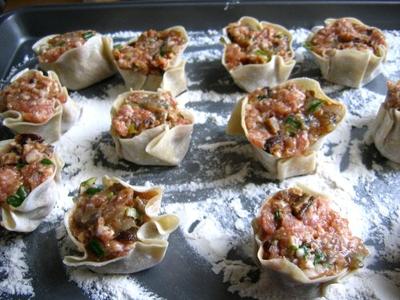 When you're ready to form the dumplings, sprinkle some flour on a cookie sheet, and dust hands with flour. Take a round wrapper, and using a teaspoon, begin with a small mound of the pork mixture in the center, and begin to tuck the center into a loosely formed fist (as if you were holding an ice-cream cone), filling the wrapper with more meat as you go. You are in essence making a little basket of the wrapper in the hollow of your fist.
Once you're done, dip the bottoms of the siu-mai into some oil and place in the steamer, making sure not to let the dumplings touch. Steam for about 15-20 minutes.
What I would change: my Siu-Mai were huge - perhaps just slightly smaller than golf balls! I'd make them tinier next time, going easy on the filling; and add an egg or two to the mixture above for better binding...
Scallop, Shrimp and Chive Dumpling recipe:
1/2 lb sea scallops
1/4 lb shrimp
1 bunch garlic chives (use as much or as little as you like)
1 t. minced fresh ginger
2 T. Chinese rice or sherry
2 t. soy sauce
2 T. cornstarch
1 t. Asian sesame oil
1/2 t. salt
1/8 t. white pepper
thin dumpling wrappers (I used the ones left over from the siu-mai)
Coarsely chop the scallops and the shrimp. Finely chop the chives and sautee in a bit of oil until just wilted. Mix everything in a large bowl. (I made the mistake of using the food processor, and the mixture turned out to be a bit too grainy...not the greatest texture.) Prepare a floured cookie sheet. Stuff the dumpling skins by placing a bit of filling in the center of the wrapper, and folding the edges in half to form little pillows. Either lightly oil the pillows and the bottom of the steamer. Steam dumplings for 15 minutes.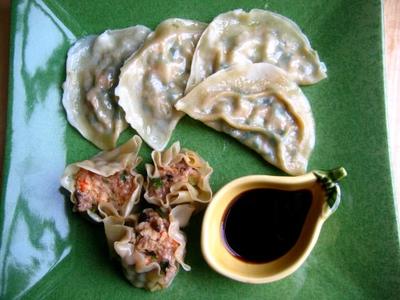 Serve with soy sauce mixed with a little vinegar.
IMBB VII: You're Just the Cutest Little Dumpling!, hosted by Redbeard @ Life in Flow
IMBB I: @ Il Forno, soups
IMBB II: @ Chocolate & Zucchini, tartines
IMBB III: @ Shiokadelicious, cakes
IMBB IV: @ Chez Pim, rice
IMBB V: @ Mum-Mum, fish
IMBB VI: @ Too Many Chefs, grilling & BBQing
Posted by claudine at August 21, 2004 06:16 AM